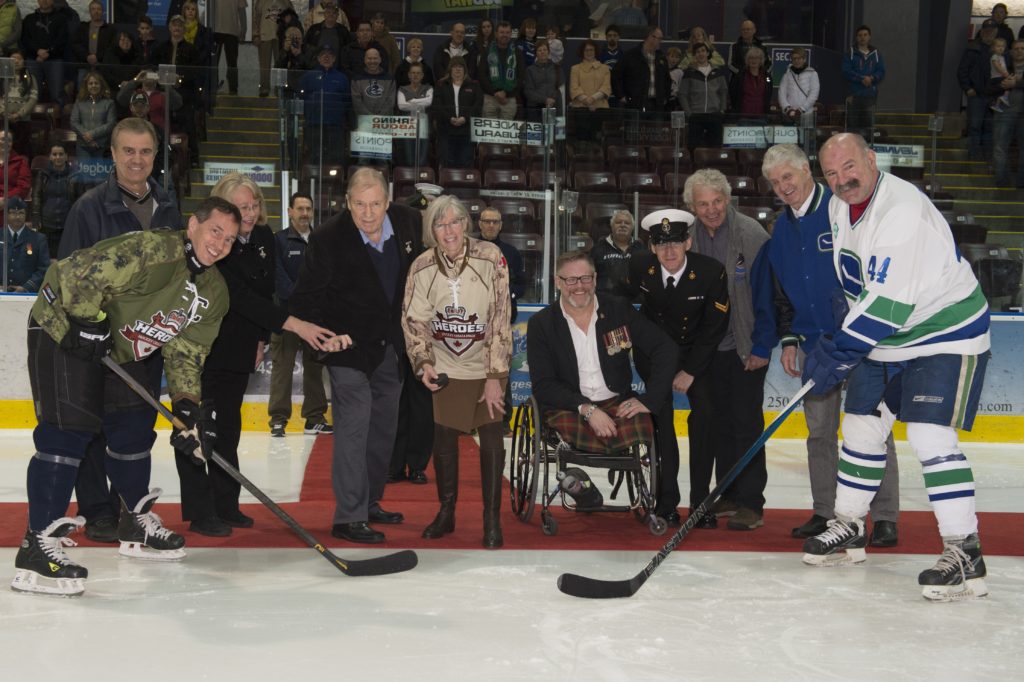 Heroes Hockey Challenge (HHC) shines the spotlight on some of our nation's greatest heroes – for the benefit of Canada's unsung heroes.
HHC is an annual set of charitable fundraising events which takes place in communities across Canada. Since early 2012, HHC events have been held in Calgary, Vancouver, Abbotsford, Edmonton, Toronto, Victoria and again in Edmonton in 2017. Over that time, HHC has raised more than $300,000 for the benefit of those who serve and have served in the Canadian military — active members and their families, veterans, the wounded and the fallen.
In previous years, the Calgary Flames, Edmonton Oilers, Vancouver Canucks and Toronto Maple Leafs have generously assembled and led teams of their Alumni to play off against teams of soldiers and vets. This year, the Calgary Flames has again offered their support as the official HHC game partner.
Many former NHL and sports celebrities have joined the Alumni teams in previous games, including Jamie Macoun, Jim Peplinski, Joel Otto, Wendel Clark, Al Iafrate, Garry Unger, Dana Murzyn, Geoff Courtnall, Glenn Anderson, Johnny Bower (coach), Scott Moir, Hayley Wickenheiser, Ron Hogarth (referee) and Kerry Fraser (referee). The lineup representing the Calgary  Flames team for HHC 2018 will be announced in early November.
Heroes Hockey Challenge was founded by Glenn and Estella Cumyn in 2011 on behalf of their father CWO (retired) James Cumyn (RCEME 1954 to 1988).